Being an older parent

Is there ever a 'right time' or a 'good age' to have a baby? Age and pregnancy are hot topics, and we've become used to the older parents vs younger parents debate. But the question of when to have a baby is nobody else's call but your own.
Here we'll look at the experience of being an older parent, the benefits that come with it, the age-related pregnancy complications and the questions you might be asking as an older mum, dad or guardian.
Looking for support, not judgement?
We'll give you the reassurance you need to parent your way.
According to a recent survey by YouGov, the UK public believe that 28 is the ideal age for a woman to become a mother1. When it comes to embracing more love and less judgment, we've got more work to do as a society.

But just what is an older mum? What constitutes advanced maternal age? What are your chances of pregnancy as you get older, and what are the advanced maternal age pregnancy risks and considerations?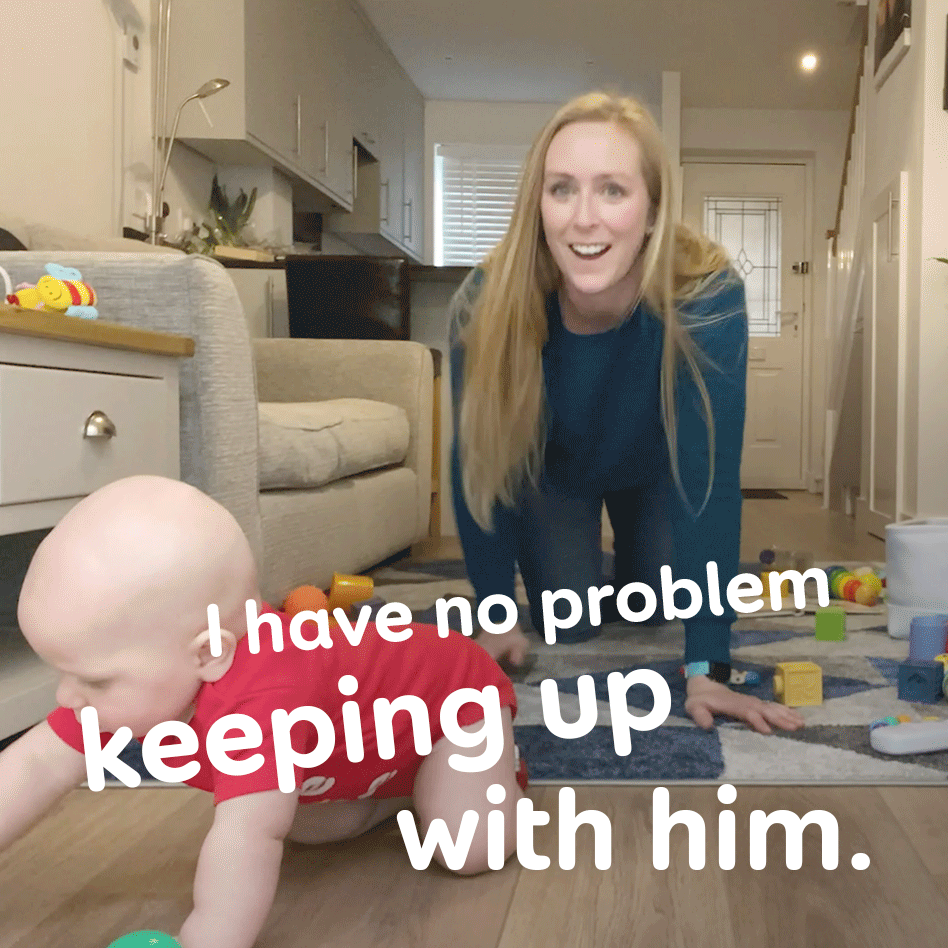 How old is a 'geriatric pregnancy'
In medical terms, a geriatric pregnancy describes a woman giving birth at 35 or over2.
However, the term 'geriatric pregnancy' is both outdated and harmful. And it's now rarely used by the medical profession or parents, who instead use 'advanced maternal age' when referring to older mums in pregnancy.
Advanced maternal age pregnancy risks
If you're a woman over 35 embarking on your pregnancy journey, you're in perfect company. 1 in 5 births now fall into this age bracket3.
Being an older mum comes with its own set of considerations. After the age of 35, there's an increased risk of4:
Being offered an induction.
Giving birth via C-Section.
Miscarriage, particularly in women over 45.
Conditions such as gestational diabetes, high blood pressure and pre-eclampsia.
Premature birth and lower birth weight.
Chromosomal conditions such as Down's Syndrome.
It's important to know that most mums of an advanced maternal age give birth to happy, healthy babies. Ultimately, if you're healthy, and, if this is your second baby, you haven't experienced difficulties in any of your previous pregnancies, then it's unlikely that you've got anything to worry about.
Advanced maternal age pregnancy chances
In a nutshell, the older you get, the less fertile you become.
According to the NHS, your chances of getting pregnant after one year, between 35-39, are 82%. That's compared with 92% if you're aged between 19-265.
Advanced maternal age induction
According to some research, inducing labour could reduce the risks associated with advanced maternal age, particularly the risk of stillbirth and pre-eclampsia. However, more research needs to be done here6.
Advanced maternal age is just one reason for inducing labour. There are plenty of others. Ultimately, it's all about having the right birth for you. If you're concerned about this, talk to your doctor or midwife to put your mind at ease.
Advanced maternal age and twins
Whilst there's no way to predict if or why you'll have twins, there is a link between advanced maternal age and twins.
Interestingly, everyone has the same chance of having identical twins7. But several things increase the probability of becoming pregnant with non-identical twins. Advanced maternal age is one of them.
If you're over 35, your body is more likely to release more than one egg when you ovulate. This means that your chances of becoming pregnant with twins are higher7.
Being an older dad

How old is too old? Will I be judged for having a baby later in life? Believe it or not, dads can have all the same anxieties about potential judgements as mums do.
According to the Office For National Statistics, the average age to become a dad in the UK dad is 33.68.
But when it comes to the 'best time to start a family, being an older dad can be wonderful. It's swings and roundabouts. There are many benefits of being an older parent. Do what's right for you and your family.
Questions you may have as an older parent
Here are just a couple of things you might be asking yourself if you're worried about being an older parent.
(Spoiler alert: you're going to be just great 👌🏻)
Am I selfish?
Absolutely NOT! If you've waited until you're a bit older to have a baby, that's your choice.
Maybe you've worked hard for a career you love and weren't quite ready to put that on hold. Perhaps a certain level of financial stability was important to you before having a baby, so you've been working hard to achieve that. It might simply be that you've been enjoying the life you've been living and just weren't ready to become a parent.
In some circumstances, you may not get to choose the age at which you become a parent. Some women have been on their own fertility journey, meaning that things might have taken longer than planned. You never know everyone's personal story, which makes it even more important to love and not judge.
Whatever your reasons, they're YOURS. Feel free to own them in the knowledge that if you're proud of yourself, then your little one will be too. And theirs is the only opinion that matters.
Will I fit in?
You might worry about being the oldest mum in your ante-natal class or the playground.
But as we've discovered throughout our #LoveDontJudge campaign, everybody has their own experience. It's not likely to be the polished one you see staring up at you on your Instagram feed. You can see more about what the media are saying about #LoveDontJudge here.
Remember, age isn't a barrier to providing your little one with all of the love they need.
Will I have enough energy?
Despite what other people might tell you, tiredness isn't the sole domain of older parents, particularly if you're fit and healthy.
Babies require a lot of your time and energy, no matter how old you are. You'll need to regularly draw on your reserves to keep up with those 3am feeds and energetic, lightning speed toddlers!
Am I too old to be a foster parent?
You're never too old to start the incredible journey of becoming a foster parent and providing a safe and loving home to a child who needs just that.
Anyone can register their interest to be a foster parent, and there are different types of fostering to suit all kinds of people. Whether or not you're successful depends on several factors, including your health and whether your home is suitable9.
Adopting as an older parent
Just like fostering, adoption can be a wonderful experience. If you're worried that you might be too old to be considered, you're not. Whilst you'll need to have reached 21 years of age, there's no upper age limit when it comes to who can and can't adopt, and the decision will ultimately depend on a range of factors10.
Remember that different rules may apply if you're adopting privately. Be sure to explore all of the relevant information depending on your situation.
Benefits of being an older parent
There are so many advantages of being an older parent.
You might have more financial stability and more time to dedicate to being a parent if you've already established yourself in your career or job. On the other hand, it might just be the right time.
You know best, and for every negative, rest assured there'll be a positive to being an older parent.
Follow your instincts and do what's right for you.
The #LoveDon'tJudge Community.
Explore our wonderful community hub of parents and families who are doing things the right way - their way. You'll find top tips to help you do what's right for you, and a wealth of information to help you find the confidence to just be yourself.
Learn more about how we're calling time on parental judgement.
Learn more
#LoveDontJudge. A community calling time on parental judgement

The C&G baby club community are embracing everything love and calling time on all forms of judgement.
Discover how other families and the media are supporting our #LoveDontJudge campaign.