At 17 weeks pregnant your baby is now about 17cm long. Their kidneys are now working well so, like you, they're weeing several times per day. Their urine is filtered back to you through the placenta and is managed by your body. Your baby's hearing is also getting much better, so you may notice that they respond to sudden loud noises from the outside world.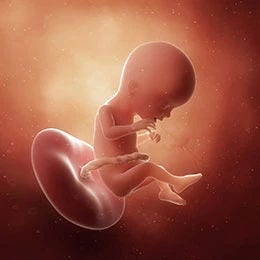 Constipation in pregnancy is a common problem and may be more troublesome from now on as your baby gets bigger. A diet rich in fibre can help, so include high-fibre food at every meal and try to snack on fruit and veg between meals.
Bran or oat cereal makes a good fibre-packed breakfast and during the rest of the day, you can top it up with wholegrain bread, wholemeal pasta, pulses, or perhaps a jacket potato. Remember that plenty of fluids are vital to ensure that you avoid constipation, so have about eight glasses of water, fruit juices or smoothies throughout the day.
Did you know?
As well as affecting your mood, pregnancy hormones make all the soft tissues in your body even softer, including your gums. Be a bit gentler with them than usual, maybe choosing a softer toothbrush and remembering to floss. If you do get sore or bleeding gums, speak to your dentist.
Need some friendly advice or a bit of reassurance?
Ask us a question (8am - 8pm Monday to Friday, 10am - 4pm Weekends)
Contact us on Facebook (10am - 10pm, 7 days a week)
Call us on 0800 977 8880 (8am - 8pm Monday to Friday)
Get answers to your most frequently asked questions